Begin january this year, I was once again a weekend in Amsterdam. I had a really good time, but I also noticed I did quite some preparation on what to see and visit, to get something out of those few days.
In the end, I ended up with a list, a map, a couple of websites and an app. While preparing, I realized some things. In most guides, you either have a bloated, overloaded map with 100 things to do, or a text describing everything - for me, both were equally useless.
Some things are easy to figure out for yourself, for example where the heart of the city is, where to eat, cafés and pubs, how to use public transportation. It's also great fun to just wander around, breathe the city, the culture and the people that are in it.
But some things you just have to discover and plan, because you don't stumble over them. And this is exactly where I think it should be easier to plan your trip, at least the way I like to do it. Trip Advisor has a nice list, but also here, you don't want to check 250 things if they're something for you. I'm aware that everybody has different interests, but if you have a few days in a city, you can easily narrow it down to some top-shots.
This leaves me with two things I wish I would have for my next trip:
a simple map for orientation purposes, with areas (where reasonable - it doesn't make sense to include sightseeing stuff, it's too far spread)
a list with ideas (links included) so you can figure out what you'd like to do for yourself
The lists should include the most important things to visit (but certainly, in this case, they're still quite subjective).
The map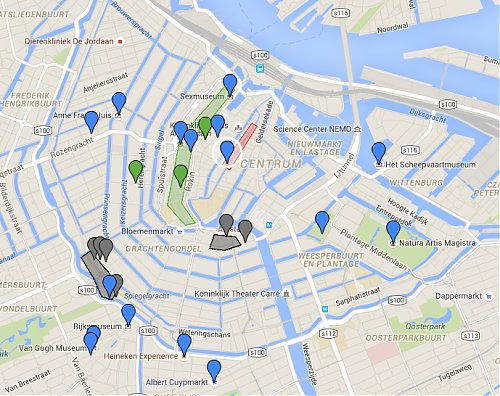 (click to see the custom Google Map)
The map has some areas drawn on it, like the green shopping area, where you can just go to and don't really have to look for some specific places. The same applies to the black nightlife areas. Also, with one click you can hide a whole section and just show what you like: Shopping, Nightlife, Shopping.
Shopping (green area on map)
Nightlife (black areas on map)
I also like the nightlife guide at likealocalguide.com.
Sightseeing (blue dots all over the map)
In general there are also a lot of seasonal events, a great website to check them out is I am sterdam.
Hire a bicycle, explore Amsterdam by bike Fahrrad (have a look at the houses)
Culinary attractions: "eten uit de muur trekken" (pull your food out of the wall), Haring
Coffeeshops - you don't really have to look for coffeeshops, as you'll run into them as soon as you leave the station :-)
all kinds of museums - Sex-museum, Vodka museum, Tattoo museum, Hashmuseum (web | map), Bols museum, museum of Prostitution
get to know the city by Grachtenvaart (canal cruise) on Amsterdam's canals
recover in nature - enjoy the parks like Vondelpark or Oosterpark
Red Light District (red area on map)
Also a part of Amsterdam.
Some more things: